Where was MSA on September 11?
(as also seen in the Winter 2001-2002 issue)
Only three of nine MSA corporate officers were at headquarters that morning. These executives hatched an emergency plan via cell phones linking Pittsburgh to Houston, Chicago, Europe, and Peru: "Get together whatever we think is needed to help." Find a way to get it to the site. " Document everything we do and deal with the financial consequences later.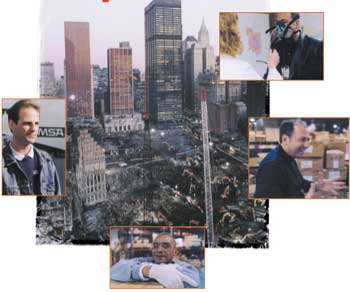 But no one had waited to be told what to do.
Stunned but determined MSA plant employees had already returned to their jobs: making and shipping respirators (Evans City, Pa., and Jacksonville, N.C.); breathing apparatus and hardhats (Murrysville, Pa.); fall protection (Englewood, Colorado); gas monitoring instruments and thermal imaging cameras (Cranberry, Pa.); and firefighters' helmets (Clifton, N.J.).

Soon MSA's customer service reps (in Pittsburgh, Pa.) were connecting frantic callers to products and coordinating with other MSA departments for immediate delivery. Telephones rang incessantly, doubling the number of daily calls. Regular customers with pending orders agreed to let MSA redirect "their" products to the disaster sites, where three truckloads arrived within 15 hours of the attacks, with police escort.

Already, MSA's field sales representatives from Maine to Virginia to Ohio had dropped everything and moved to converge on New York City, Somerset County, Pa., and the Pentagon. NYC's Ground Zero would quickly become Home for a number of them. They helped staff the FDNY's Special Operations Tent 24 hours a day, charging battery packs and handing out respirators, gloves, and other safety equipment. They helped with equipment training and maintenance everywhere.

Simultaneously, MSA's NYC-area distributors [Aramsco (Queens, N.Y.), Olympic Glove and Safety (Elmwood Park, N.J.), and Safeware (Largo, Md.)] began to field calls from many government agencies and amass huge quantities of protective equipment. Eventually, out of chaos came plans and procedures to keep trucking steady supplies of desperately needed protection for emergency, rescue, utility, government, and security workers. A partnership, funded by resources from MSA, the International Union of Operating Engineers, Safeware, and Olympic Glove and Safety, was formed to improve respiratory protection and provide respirator fit testing in a special trailer at Ground Zero.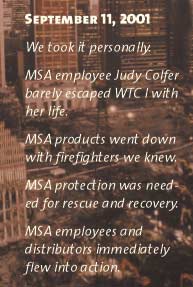 Every MSA employee worked to such a degree that MSA was told countless times that we were the most significant safety manufacturer to respond to the tragedy. What better way to staunch the grieving, the sorrow and loss, than to dig in and do what we do best.
On September 11, MSA was there. We're still there, and we'll be there as long as we are needed.

What was it like?

"The size of the scene, the smell, the debris, and the look of devastation on [people's] faces-I will never forget it. . . . Incredibly and immediately there was a sense of determination to do whatever needed to be done to help. In those early days, each time we went into the city [with police escort], we were greeted by thousands of cheering residents of lower Manhattan . . . expressing . . . appreciation [with] applause, signs of support, patriotic expressions . . .food and drink." (Dave McArthur, MSA northeast regional sales manager)

"Take this money and use it for equipment-just get it down there." (several corporations and foundations)

"It was crazy, hectic, unreal, pandemonium, wild. . . . Job functions didn't exist anymore. Vice presidents were loading trucks and making deliveries around the clock." (Aramsco employees)

"I know that our families were worried about us, but they were proud of what we were doing. They were incredibly supportive. Everyone was asking what they could do. We knew what we could do and we did it." (Ed Simons, president of Safeware)

"We just ordered and gathered whatever equipment we thought they might need. At one point, I had about 20,000 pairs of safety goggles that no one needed. Then EPA called and said, "We'll take them all-within an hour!" (Josh Goldstein, VP, Olympic Glove & Safety)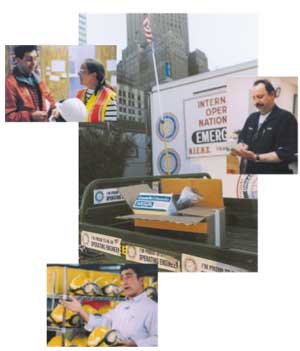 "OSHA greatly appreciates the work MSA has done to assist in the New York recovery operation. [We applaud] their generous and quick response to help ensure the safety and health of the rescue workers at the WTC site." (OSHA Administrator John L. Henshaw)

"We felt like so much more than salespeople, [thanks to] the solid relationships between Tom Jeramaz . . . and people from FEMA, NYPD, Department of Sanitation, Emergency Services, etc. They told us, 'I'm glad you guys are here. We need your help.' Knowing the right people and having enough of us there made all the difference. We were there to help, and they were glad to see us. That was the best feeling." (Mike Dineen, MSA sales rep)

"I feel even more strongly about being in an honorable business after witnessing how our products protect people's health and safety." (Dave McArthur)

"I have a newfound respect for people at MSA, particularly the entire Customer Service Center, who have done an astonishing job finding alternate solutions to unprecedented challenges and working through the logistics to get products out. Our distributors have been overwhelmed by MSA's response." (Mark Dilliplaine, MSA's director of distributor sales)

"[MSA's customer service reps] are the finest I have ever dealt with. It's a real pleasure to work with them." (Mike D'Ambrosio, senior account manager, Aramsco) "No one seemed to care about anything other than helping. No one on our team ever complained, in spite of the fact that many of us did not sleep for days at a time, working right through the first two weekends." (Dave McArthur)

"The late Chief Downey [Chief of Special Operations for FDNY who lost his life in the rescue efforts] was a luminary within the fire service community. To me, he was like an uncle. I really miss him." (Tom Jeramaz, MSA sales rep for NYC)
| | |
| --- | --- |
| | |
Other September 11 Related Articles
---
---